News & Media at the Sheriff's Office
November 30th 2015 A.S.K. Training
April 9th 2015 Celebrate the life of Officer Larry Cox.
December 9th 2014 starting December 22nd 2014 friends and family will be able to order Holiday kits for inmates. please click on the caption below for more details.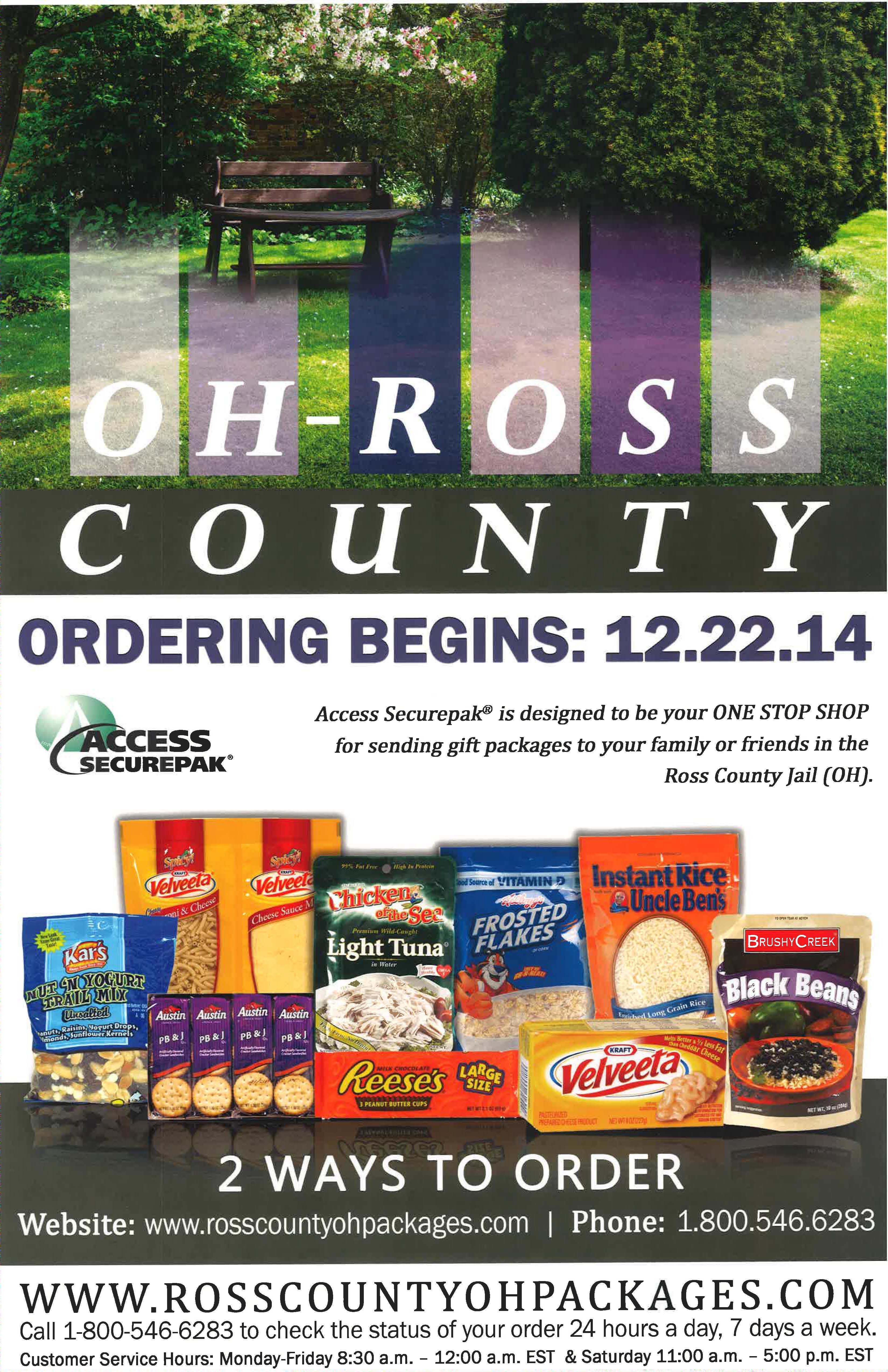 November 26th, 2014 The Ross County Sheriff's Office is proud to have promoted Abigail Tomlinson to Corrections Sergeant
October 27th 2014 The Ross County Sheriff's Office is proud to have promoted Tracy Harewood to Corrections Sergeant
September 25th 2014 The Ross County Sheriff's Office is conducting a Drug Take Back on Saturday September 27th from 10:00 AM to 2:00 PM in the multipurpose room in the Law Complex at 28 N. Paint Street. The Junior Deputies will be posted outside to collect medication for those who wish not to enter the law complex.
July 22nd 2014 Deputy Jason Gallagher receives an award citation for helping save a young woman's life. Read here
February 24th 2014 Ross County salt celebrates its 15th year on February 11th Click here to see photographs of the celebration.
Zane Trace basketball game has some new visitors with Ms. Jana Detty from McDonalds restaurants, Dep. Amanda Angles with Big Mac, and Dep. Rick Torchick with Ilka
February 3rd 2014, Arrest made on the string of church burglaries in Ross County, Click HERE to see story.
December 11th 2013, S.T.O.P.P article in the Chillicothe Gazette read HERE
November 22nd 2013, The Ross County Sheriff's Office is proud to announce the promotions of the following deputies; Carl Lawhorn- Road Sergeant; and James Bridenbaugh- Corrections Sergeant
November 1st 2013, The Sheriff's Office is proud to announce the promotions of the following deputies; Dennis McKeever- Staff Captain; Glenn Detty-Staff Captain; Mike Preston- Staff Lieutenant; Brett McKnight-Patrol Sergeant
October 30th 2013 Drug Take-Back results for the State of Ohio click Here to view.
October 26th 2013 Drug Take Back at the Law Enforcement Complex from 10:00 AM till 2:00 PM
October 24th 2013, The Ross County Sheriff's Office is please to announce that the office has procured new cruisers and new firearms to better serve and protect citizens.
March 15th 2013, Ross County Sheriff's Deputies being profiled in local schools to protect the students.


September 29th 2012, The Sheriff's Office will be participating in "Drug Take Back" in the multipurpose room at the Law Enforcement Center from 10:00 Am -2:00 PM Any old or unused drugs may be brought to the Law Enforcement Center to be disposed of.
July 13th 2012, The United Way of Ross county will be sponsoring "Stuff the School Bus". A event to help school children with school supplies for the coming school year. Click here to read the event details.
May 10th 2012, Your Ross County Sheriff's Office is proud to announce the upgrading of our old version of the Emergitech Public Safety Software to the new version of the Emergitech Public Safety Software. Thanks to the diligent efforts from our county agencies and a special thanks to the Ross County Commissioners, starting in June of 2012, this new software will help the deputies and staff here at the Sheriff's Office be more efficient to better serve your needs. This upgraded software will better track 911 and service calls, along with this it will make it more efficient to dispatch to our surrounding volunteer firefighter and EMS units. It will also make the process of requesting and receiving incident reports more efficient. The software will also serve the jail in making the booking, tracking, and releasing of offenders more efficient. Also, it will make the due process more efficient with the Chillicothe Municipal Court, Common Pleas Court, the Ross County Prosecutor, and Chillicothe Law Director by having access to the management system. This new software uses the latest in network "Cloud" technology. This means that the data is stored off-site in a highly secure data center. By using this method of records management the Sheriff's Office has avoided spending several hundreds of thousands of your tax dollars to just a fraction of that cost.
December 19th 2011, Please enjoy our photographs from the Sheriff's Office Christmas Party 2011
October 25th 2011, The Sheriff's Office wishes to thank the Veterans of Foreign Wars, Post 108 for the donation of the New U.S. Flag that has been hoisted on the Chillicothe Law Enforcement Complex flag pole.
November 18th at the Ross County Senior Center located at 1820 Western Ave. This class will be for Veterans, their spouses and dependents, free of charge with proof of Service. If interested, contact Deputy Dave Weber at 740-773-1186 or d.weber@rosssheriff.com
The Ross County Sheriff's Office and the D.E.A will host a Drug Take Back on Saturday October 29th from 9:00 AM to 2:00 PM at the Ross County Law Enforcement Complex at 28 North Paint St Chillicothe
August 22, 2011 Sheriff Lavender and the State Fire Marshal's Office Institute Free Smoke Alarm partnership.
View Press Release
Please Follow this link our Sounding Board
Ross County Law Enforcement Complex Memory Gardens
Internet Scams


Lately citizens have been getting emails from someone posing as Bank of America. The email says that different computers have tried to log into the persons account with multiple password failures. The email is asking you to reconfirm your account information. If you don't, your account will be suspended indefinitely. If you get this email or similar emails,

DO NOT GIVE OUT YOUR ACCOUNT INFORMATION.

A credit card company should never email you for your account information.
Click on Links below to view local news.